Peritoneal Dialysis Catheter Insertion
Dr. Atwa and the team at Long Island Laparoscopic Doctors can place a peritoneal dialysis catheter during a brief outpatient procedure.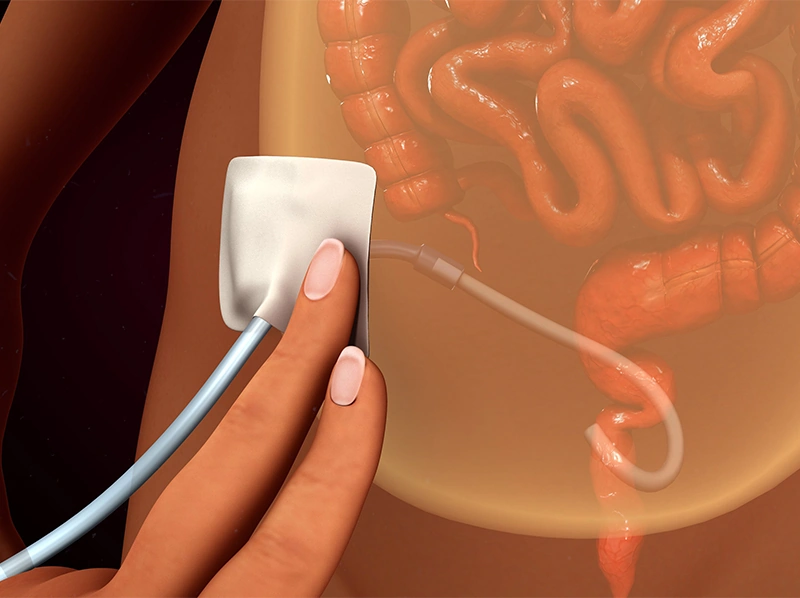 What is Peritoneal Dialysis?
When a patient's kidneys no longer function properly, dialysis is used to filter waste from the blood. There are two forms of dialysis: hemodialysis and peritoneal dialysis. During hemodialysis, a machine acts as an artificial kidney, removing blood for filtration then returning it to the body through tubes. Peritoneal dialysis (PD) relies on the inner lining of the abdomen (the peritoneal membrane) to filter waste and remove excess fluid from the body. In patients undergoing peritoneal dialysis, a soft catheter is placed in the abdomen. A sterile fluid is introduced through this catheter, and once filtration is complete the waste fluid exits through the same
Trusted Source Peritoneal Dialysis The National Kidney Foundation Go to Source catheter.
Preparing for Dialysis Catheter Insertion
The key to preparing for peritoneal dialysis catheter insertion is to become educated during a consultation with your kidney doctor and your surgeon here at Long Island Laparoscopic Doctors. Once your procedure has been scheduled, you will receive detailed instructions about what to expect before, during, and after the procedure.
The Peritoneal Dialysis Catheter Insertion Procedure
Placement of a peritoneal dialysis catheter is an outpatient laparoscopic procedure performed with general anesthesia. To begin the procedure, the surgeon makes a small abdominal incision. The catheter is then placed below the skin, and the tip of the catheter is advanced into the peritoneal space. Two cuffs will help hold the catheter in place and prevent the introduction of germs and bacteria. Finally, the external part of the catheter is held in place with sutures and a sterile dressing is applied.
Recovery After Dialysis Catheter Insertion
Following the insertion of your peritoneal dialysis catheter, you will need to wear a bandage over the surgical site for at least one week. It is normal to experience some discomfort, but pain medications will help and this will resolve within a few days. It is important to keep the skin around the catheter site clean and dry, so patients should avoid bathing for 10 to 14 days after insertion. Your doctor will also caution you to avoid strenuous activities or heavy lifting during the recovery period.
Frequently Asked Questions About Peritoneal Dialysis Catheters
Is peritoneal dialysis always preferable to hemodialysis?
For patients who are candidates, peritoneal dialysis is beneficial because it puts less stress on the heart and allows patients to eat a more varied diet, take fewer medications and enjoy greater personal freedom. However, some patients are better served with hemodialysis, including patients who are obese, patients who have had multiple previous surgeries, and patients who are at risk for an abdominal infection called peritonitis.
Is it difficult to care for a peritoneal dialysis catheter?
A nurse will help you learn about how to care for your catheter, which is not difficult. YOu will need to keep the catheter and exit site clean in order to avoid infection. You should also use tape to hold the catheter in place, and avoid wearing clothing that may pull or tug on the
Trusted Source Taking care of your peritoneal dialysis (PD) catheter National Kidney Foundation Go to Source tube.
How long can a peritoneal dialysis catheter stay in place?
With good care, your peritoneal catheter can stay in place for years. If a catheter does need to be removed, this is done with minor surgery.
Contact Us
Please contact Long Island Laparoscopic Doctors to schedule a consultation and learn more about peritoneal dialysis catheter insertion.