Robotic Surgery
da Vinci Robotic Surgery is the latest evolution in advanced minimally invasive surgery!
A new era of surgical sophistication provides our surgeons and our entire team with superior vision, precision, dexterity, and improved access to the abdomen.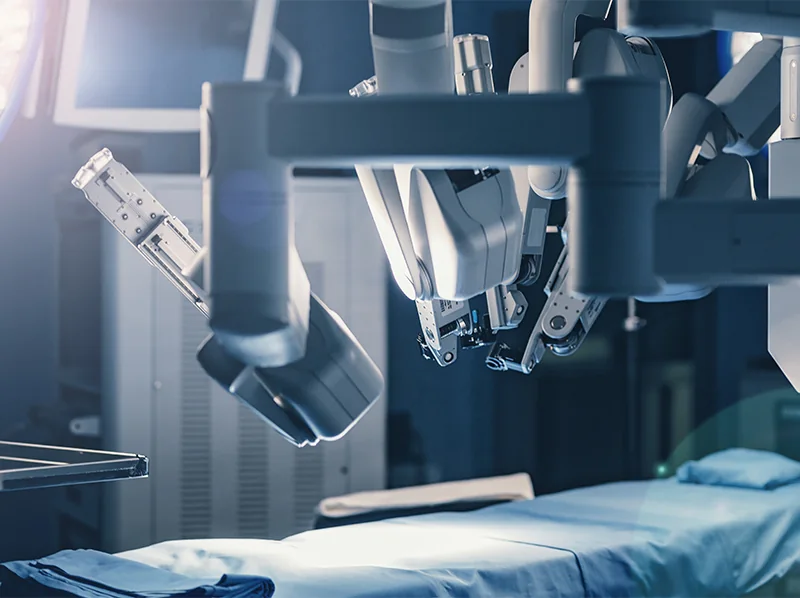 What Is Robotic Surgery?
A common misconception is that the robot performs the surgery. It does not. Rather, it allows a laparoscopic surgeon to perform a minimally invasive procedure with greater visual accuracy and manual dexterity. This is because the da Vinci Robotic Surgical System uses haptic technology to mimic the surgeon's actions and translate their deliberate movements into scaled-down and precise motions. This enables the use of smaller, miniature surgical tools by the robotic arms and quicker completion of surgery.
Dr. Hesham Atwa has been extensively trained on the latest generation of da Vinci Robotic equipment. He performs robotic bariatric surgery for both gastric bypass and gastric sleeve procedures, as well as revisional bariatric procedures. In addition to robotic bariatric surgery, the Long Island Laparoscopic Doctors offer robotic hernia repair, Heller myotomy for achalasia, gallbladder and colorectal surgery, splenectomy and adrenalectomy procedures.
Benefits of Robotic Surgery
Robotic surgery has many benefits for a range of laparoscopic procedures, including:
Less time is needed in the operating room
Fewer days in the hospital for recovery
Minimized blood loss during and after robotic surgery
Helps avoid the need for blood transfusion
Less soft tissue and nerve trauma
Reduced post-surgical pain means less need for narcotic pain medications
Tiny incision size and precision suturing create the smallest, least visible surgical scars
Low incidence of wound infection
Faster wound healing
Lower level of patient stress
Reduced surgical complications
Less time spent recovering
Better outcomes
How Robotic Surgery Works
During a robotic surgery procedure, the surgeon is seated at a console several feet from the patient and controls the da Vinci Surgical System. This system includes an arm with a camera and one or more mechanical arms that hold the surgical instruments. The surgeon controls these arms and the console provides a
Trusted Source Robotic surgery Mayo Clinic Go to Source magnified, high-definition, 3D view of the treatment site .
Because Dr. Atwa is seated throughout the procedure, there is less arm, finger, and hand fatigue which allows for increased focus and endurance, and less eye fatigue which translates into improved microsurgery results. Furthermore, Dr. Atwa's field of vision at the surgical site is much-improved thanks to a magnified 3D view.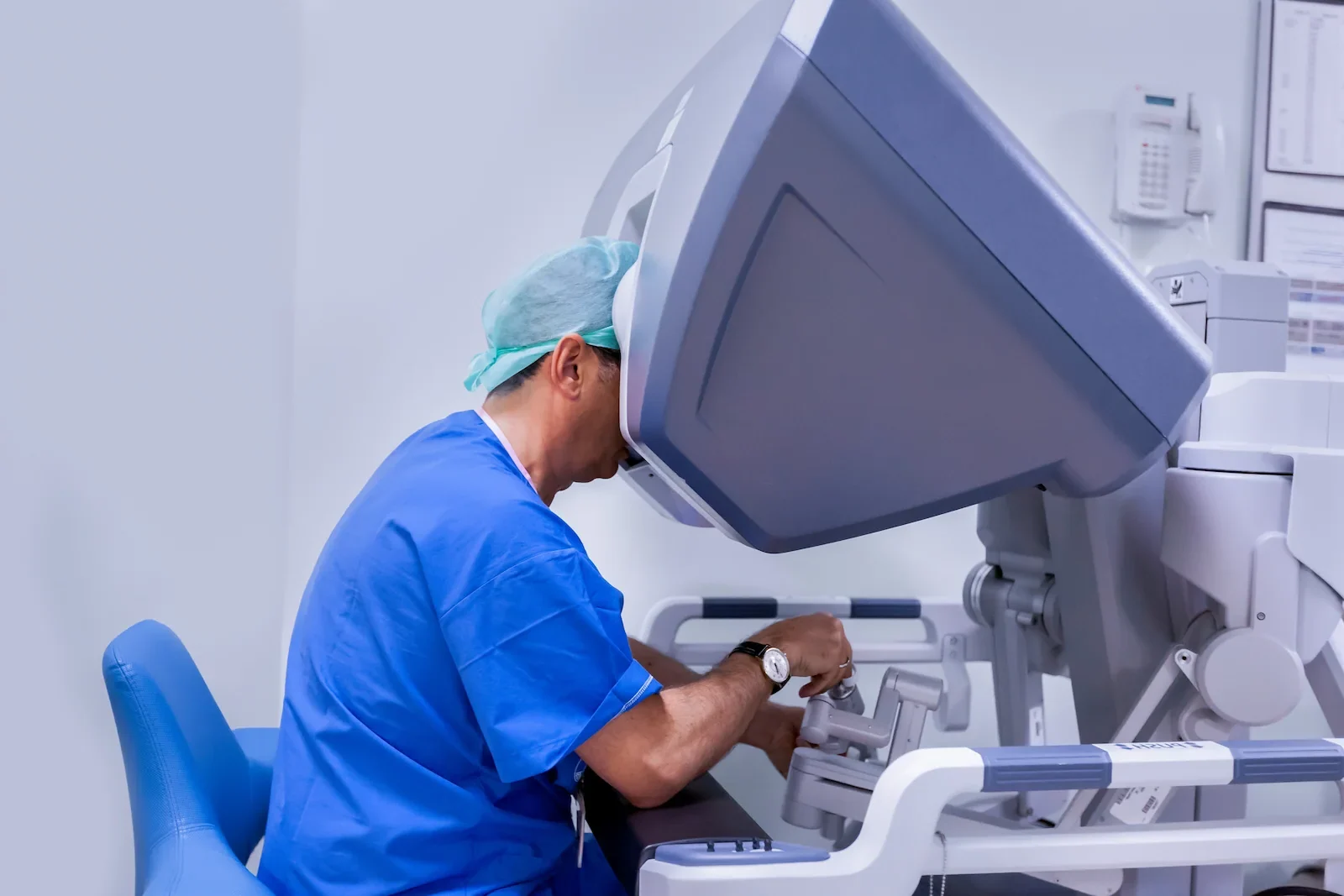 FAQs About Robotic Surgery
Does health insurance cover robotic surgery?
The answer is that robotic surgery is considered minimally invasive surgery because it uses laparoscopic techniques to complete surgical procedures. Because of this, insurance that covers minimally invasive surgical procedures usually includes robotic surgery, as well.
What kind of procedures can the da Vinci Robotic System perform?
This robotic platform is designed to enable surgeons to perform all types of complex laparoscopic procedures including general, bariatric, urologic, thoracoscopic, gynecologic, cardiac procedures, and more.
Is the da Vinci Robotic Surgical System FDA approved?
The da Vinci robotic surgery system has been cleared by the FDA, which means that the medical device has proven to be effective and safe in its intended use.