Prescription Weight Loss Program
Your medical weight loss program starts with an hour-long consultation. During that initial appointment, Dr. Barr will review your personal and medical history and discuss options that will help you achieve your goals and best suit your lifestyle.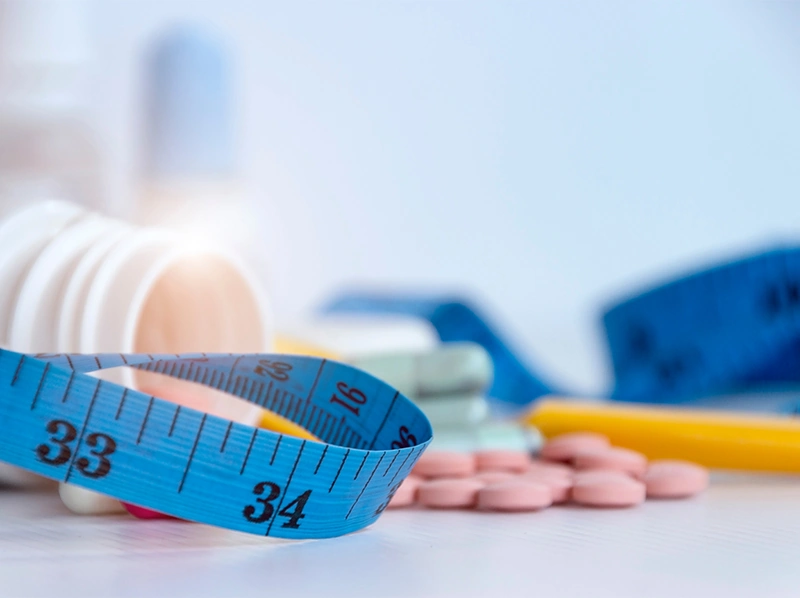 Are Prescription Weight Loss Medications Right For Me?
While we feel the gold standard for long term successful weight loss for those that are significantly obese is Weight Loss Surgery, we recognize that the journey to the new you can be reached down many roads. If you've struggled with diets in the past and found yourself giving up due to hunger, consider our non-surgical physician assisted medical weight loss program. Depending on the individual, FDA-approved weight loss medications are used as a tool to help decrease hunger and cravings in conjunction with nutritional counseling to help you reach and maintain a healthier weight. Some prescription medications may not be used indefinitely but are used to give you time to focus on developing healthy lifestyle habits.
Our medical weight loss programs include:
Ongoing guidance and support.
Nutritional and exercise counseling to help you develop healthier habits.
Meal replacement products to cut calories and improve satiety.
Weight loss medications, including appetite suppressants, to encourage weight loss (depending on individual needs).
Body composition analysis.
One-on-one Physician-supervised program.
Eileen M. Barr, D.O.
Obesity Medicine Physician
Dr. Barr is a graduate of the New York College of Osteopathic Medicine and was honored with a post graduate teaching fellowship before completing her Osteopathic internship. She also completed an allopathic Internal Medicine internship and residency from Winthrop University Hospital. Dr. Barr has served the Suffolk County community as an Internal Medicine physician for over thirty years. During that time she has been awarded the prestigious "Theodore Roosevelt award", from John T. Mather Memorial Hospital, where she also served as medical staff president and as a member of the ethics and leadership committees. In addition, Dr. Barr has been named "Woman of the Year in Medicine" by the Town of Brookhaven and was named as one of 2022's "Women of Distinction". After completing additional training, Dr. Barr is now director of Setauket Medical and specializes in Obesity Medicine.
Dr. Barr will evaluate your:
Diet
Exercise habits
Lifestyle factors that may influence weight loss
Body Mass Index and body composition
Medications
Metabolic profile
Ideal weight loss plan
Talking With Dr. Barr
Is our program right for you? GET THE FACTS.
Contact us to schedule a consult with Dr. Barr to discuss your goals, questions, and medical history. Learn about the different plans we have to achieve success and which one might be right for you.