Gastric Bypass
Gastric bypass surgery, also referred to as Roux-en-Y gastric bypass surgery (RYGB), is a type of weight loss or bariatric surgery. Gastric bypass works in two ways—by restricting the amount of food consumed and by decreasing food absorption so fewer calories are absorbed. The result is that compliant patients can lose significant amounts of weight, keep the weight off longer and receive the most health benefits with this procedure.
What Is Roux-En-Y Gastric Bypass Surgery?
Gastric bypass is a type of weight loss surgery that can be performed using traditional techniques or robotically. This surgical procedure limits your food intake and restricts the number of nutrients and calories the body can absorb. It also affects the hormone responsible for hunger as well as the hormone that controls metabolic responses such as insulin secretion. In fact, studies show that gastric bypass works better than medication for managing Type 2 diabetes or even putting the disease into remission.
Gastric bypass was shown to reduce the number of patients' health problems by 96%
84% of people eliminate or reduce symptoms of Type 2 diabetes
often within days of the operation
94% of people see an improvement in high cholesterol
Patients lose an average of 60-80% of excess weight
Benefits of Gastric Bypass
Can eliminate or improve sleep apnea, hypertension, heart disease, high blood pressure, and gastroesophageal reflux disease (GERD)
Can eliminate or improve Type 2 diabetes
Can lead to a longer life expectancy than those who do not have weight loss surgery
Carmine L.
Weight Lost: 136 Lbs.
Type of Procedure: Gastric Bypass
"The best decision I could have made. It began an entire new life for me. I suffered from type 2 diabetes and high blood pressure for years and almost overnight my diabetes practically disappeared. I am off all medications and back able to lead the much more physical life I enjoy."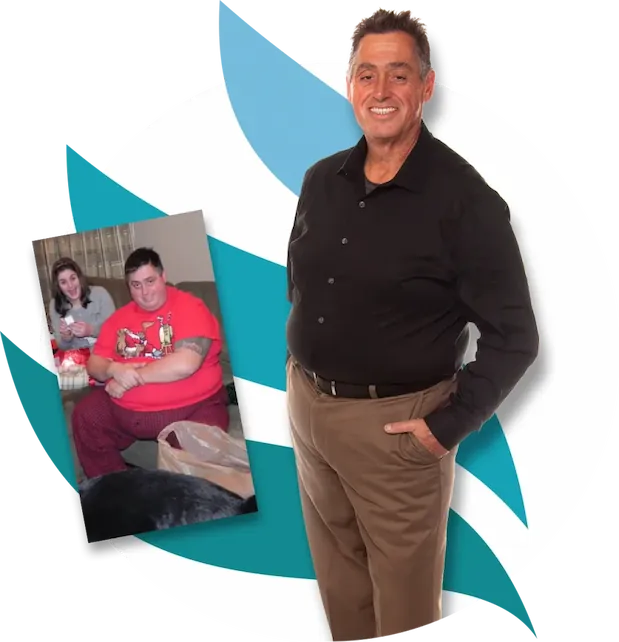 Heather S.
Weight Lost: 124 Lbs.
Type of Procedure: Gastric Bypass
"I knew it was time for a change. When I met with Dr. Atwa, he and his staff greeted me with warm and compassion. Together we decided that gastric bypass would be the best procedure for my needs. I knew I was in good hands and trusted Dr. Atwa and his team wholeheartedly. After my surgery when I cleared to exercise I started kickboxing and doing things I never thought possible when I was 310lbs!"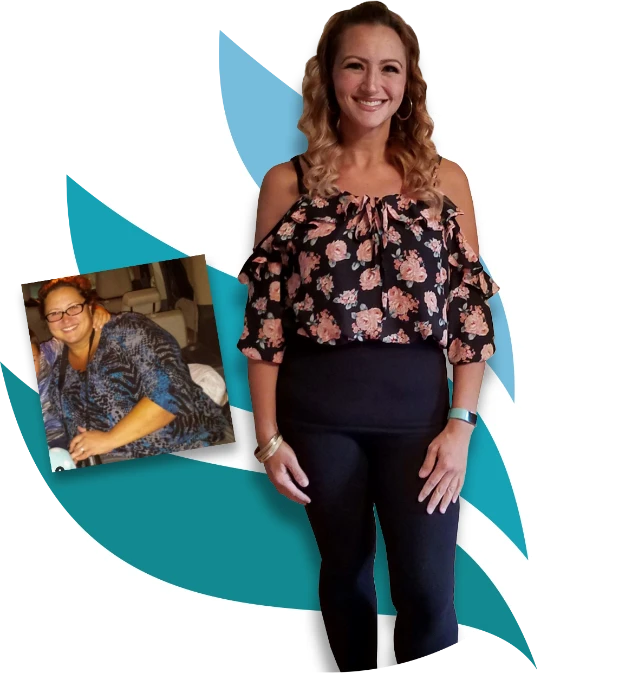 How Gastric Bypass Surgery Works
Gastric Bypass Procedure
The gastric bypass procedure begins with the creation of a new stomach which consists of a small stomach pouch that bypasses part of the small intestine to limit the amount of food consumed and the number of calories absorbed. Then, the surgeon attaches a portion of the small intestine that is Y-shaped to the small pouch. This allows food to bypass the first portion of the small intestine called the duodenum and a portion of the second part of the small intestine called jejunum. This results in reduced nutrient and caloric absorption. After the procedure, patients must take vitamin supplements and pay careful attention to diet to ensure that nutritional needs are met.
Gastric Bypass Results
On average, patients who undergo gastric bypass surgery lose roughly
Trusted Source Mechanisms Responsible for Excess Weight Loss after Bariatric Surgery Journal of Diabetes Science and Technology Go to Source 70% of excess body weight. Many patients with obesity-related conditions can discontinue or reduce
Trusted Source Medication Use Following Bariatric Surgery: Factors Associated With Early Discontinuation Obesity Surgery Go to Source prescription medications after the procedure. Individual results can vary depending on the patient's medical history and ability to adopt lifestyle changes that include a healthy diet and routine physical activity.
Gastric Bypass Recovery
After gastric bypass, recovery time can vary but most patients are able to resume their normal schedule two weeks following surgery. Patients are provided with postoperative and dietary guidelines to adhere to for several weeks following surgery and should plan for several follow-up appointments. Our clinical team along with an in-house nutritionist will be there during your recovery to ensure you have the support you need and can provide you with referrals for physical therapists and personal trainers to augment your ongoing care.
Candidates For Gastric Bypass Surgery
Good candidates for gastric bypass surgery are typically individuals who struggle with morbid obesity, are more than 100 pounds overweight, have struggled to lose weight with diet and exercise alone, have a BMI above 40 or a BMI above 35 with an obesity-related condition, such as
Trusted Source Impact of bariatric surgery on life expectancy in severely obese patients with diabetes: A Decision analysis Annals of Surgery Go to Source Type 2 diabetes .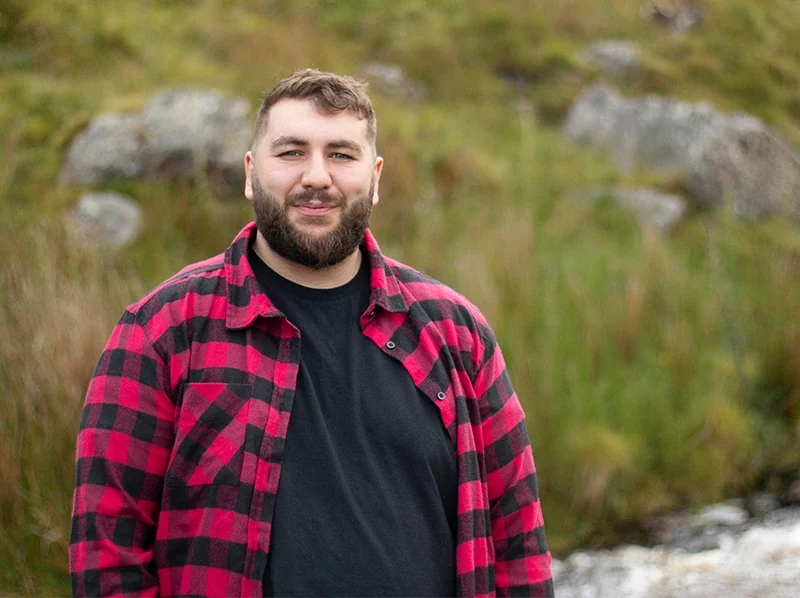 Calculate Your Body Mass Index (BMI)
BMI
Normal
Keep up the great work!
Heather's Journey – Gastric Bypass
FAQs About Gastric Bypass Surgery
Is gastric bypass a safe weight loss surgery?
Bariatric procedures like gastric bypass surgery are some of the
Trusted Source Is Bariatric Surgery Safe? Penn Medicine Go to Source safest surgeries and are effective weight loss procedures when performed by specially-trained and experienced surgeons. Our board-certified and fellowship-trained surgical team have performed over 10,000 successful surgeries of many types.
Does gastric bypass surgery have any risks?
While safe, gastric bypass surgery does have some risks, like any surgery, which include strictures, leaks in the gastrointestinal system, ulcers, blood clots, dumping syndrome, and complications that are procedure-specific. Other risks include
Trusted Source Bariatric surgery and long-term nutritional issues World Journal of Diabetes Go to Source nutritional deficiencies which can be successfully managed with careful monitoring and supplements, such as vitamin B12, calcium, and a multivitamin.
How much weight will I lose with gastric bypass surgery?
On average, patients will lose
Trusted Source Gastric Bypass Surgery Columbia Surgery Go to Source about 100 lbs. or up to two-thirds of their excess weight in one year. Some people lose a little more, some a little less. Weight loss will continue during the second year at a less rapid rate.
Schedule A Consultation For Gastric Bypass Surgery
You don't have to face obesity alone. It's time to give yourself the healthy life you deserve and the first step is to schedule your personal consultation. Contact our healthcare providers today to learn more about your weight loss surgery options.