Robotic/Laparoscopic Spleen Removal (Splenectomy)
At Long Island Laparoscopic Doctors, our expert surgeons perform minimally invasive splenectomy (spleen removal).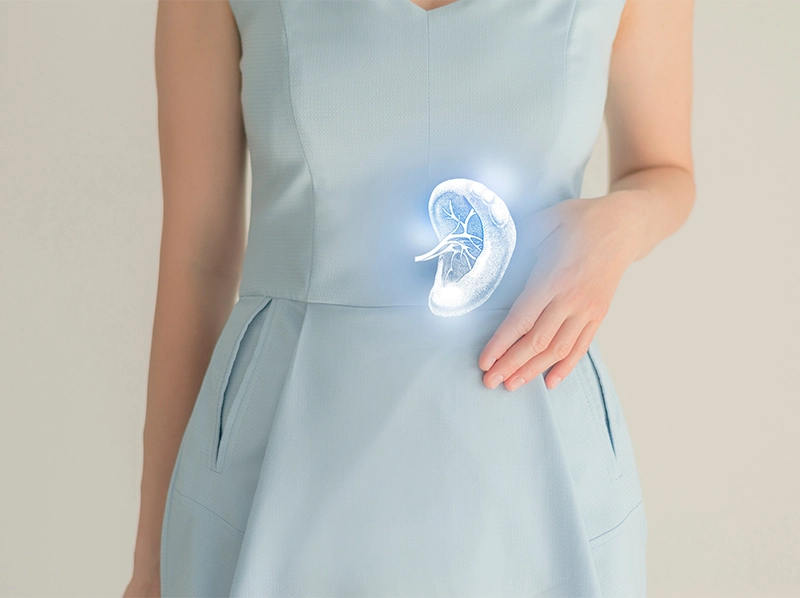 What Does the Spleen Do?
The spleen is an organ that lies on the left side of the abdomen, behind the stomach. This blood-filled organ serves as storage for old red blood cells as well as for blood and platelets that are necessary for clotting. The spleen is an important part of the immune system, as it helps rid the body of bacteria. However, it is possible to live without a spleen if the spleen becomes enlarged or diseased and needs to be removed in a surgical procedure called
Trusted Source The Spleen Brender E, Burke A, Glass RM Go to Source splenectomy.
When is Spleen Removal Necessary?
There are a number of conditions that may necessitate removal of the spleen, including:
Cancer
Enlarged spleen (splenomegaly)
Overactive spleen (hypersplenism)
Blood disorders
Blood clots
Sickle cell anemia
Trauma or injury
Trusted Source

Spleen Removal

Mount Sinai

Go to Source Infection
Preparing for Spleen Removal
As you prepare for spleen removal, you will attend a consultation with an expert surgeon at Long Island Laparoscopic Doctors. Here, you will learn more about the procedure and will have the opportunity to ask questions. You will also be given detailed information about how to prepare for your spleen removal surgery as well as what you can expect during the recovery period.
The Robotic/Laparoscopic Splenectomy Procedure
Splenectomy is a surgical procedure that can frequently be performed robotically/laparoscopically. This means that a tiny camera and surgical tools will be inserted via very small incisions, rather than a larger incision required for "open" splenectomy. Patients who undergo robotic/laparoscopic spleen removal have less scarring and a shorter, more comfortable recovery period.
Recovery After Spleen Removal Surgery
A hospital stay is required after a splenectomy. Some pain can be expected after spleen removal surgery, but your surgeon will prescribe pain medication to help you stay comfortable. Once you are able to eat and move normally and your pain is managed, you will be able to continue recovery at home.
Your doctor will instruct you to restrict your activities (including driving) for a short time following your spleen removal.
Frequently Asked Questions About Spleen Removal
Is splenectomy dangerous?
Spleen removal surgery is considered to be a safe procedure, especially when performed by an experienced surgeon. Potential risks of splenectomy include infection and spleen rupture, which is a higher risk when the spleen is enlarged.
What are the long-term effects of spleen removal?
The spleen is part of the immune system, so patients who have undergone splenectomy are at a higher risk for infection. You will be given vaccines before and after your surgery to help protect you against bacterial infection, and will receive regular booster shots after that.
Contact Long Island Laparoscopic Doctors
Please contact Long Island Laparoscopic Doctors to schedule a consultation where you will learn more about laparoscopic spleen removal.